In this post we will discuss everything Steampunk Victorian fashion. Learn about the different kinds of fashion the Victorians enjoyed and how it can be now attributed to Steampunk fashion too.
What is Steampunk Victorian Fashion?
Steampunk a sub-culture of science fiction and is inspired specifically by the actual existing Victorian era and its technology around the time of the industrial revolution of 1840s -1910s Britain hence 'Victorian' Steampunk.
The inspiration it takes is from the technology foremost and most popular is steam power and cogs and gears as was the real historic trend though anything at that time including clothing, jewellery, sensibilities can be expressed.
You could say 'Victorian Steampunk' is 'Steampunk' but with emphasis more so on the Victorian elements, though saying 'Victorian Steampunk' is very close to just saying 'Steampunk' but leaning slightly more to and referencing the Neo Victorian side.
There is a difference between the two fashions, Victorian fashion is based on the actual real era of human history and consists of the various fashions and trends in British culture that emerged and developed in the United Kingdom and the British Empire throughout the Victorian era, roughly from the 1830s through the 1890s dominated by different gender styles.
Steampunk is a science fiction sub culture based on fantasy that takes inspiration from The Victorian industrial revolution. Victorian is a true past fashion and culture where as Steampunk is a fantasy sci fi fashion drawing inspiration from that.

Steampunk vs Victorian
Victorian is very much a reality that has passed in our history and is limited by the technology of the time. Steampunk is a fantasy genre inspired by the Victorian era which means it can use Victorian influences though indulge a little in advanced technology whilst staying within the aesthetics general rules.
For example steam powered machinery can be on a larger scale including things like steam powered robots, airships, jetpacks and so on, as well as things like magic which obviously did not exist truly within the Victorian era or now. That is where you can have a lot of fun and be creative with Steampunk, that is a great joy of the fashion.
Victorian era clothing
The Victorian era is based in the British Empire in the 1830s through the 1890s. During this time trends, styles, distribution and technology all were changing and evolving. The gender roles where very much specific and unique.
Victorian clothing's production and distribution was changing more so from hand made to mass manufactured and sold in bulk using sewing machines in mass. Below we explore some of the popular pieces of clothing worn that you can base your Steampunk costume on or add to for that Victorian touch.
(As an Amazon Associate, I earn from qualifying purchases. When you click on links to various merchants on this article and make a purchase ,this can result in this blog earning a commision. Affiliate programs and affiliations include, but are not limited to, the ebay Partner Network.)
 Steampunk Victorian hat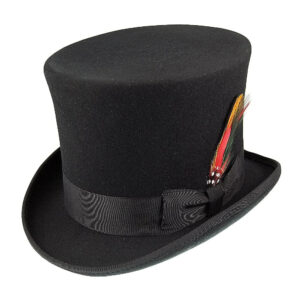 The top hat was popular with the gents who loved to tilt it to say 'hello' and to make it Steampunk add goggles and cogs and gears.
Steampunk Victorian heels
For women these are boots with lots of laces going right up the front of the boot which is commonly made from leather. Mens boots are leather also and may have spats with buttons.
Victorian Steampunk kilt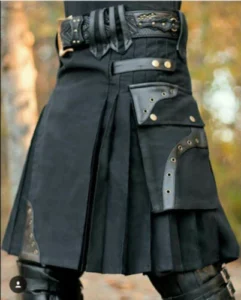 This piece of clothing evolved in the Scottish mountains within the clans and works really well with a Steampunk outfit the tartan pattern normally in shades of brown to suit the aesthetic.
Victorian kilt

Steampunk Victorian lace dress
A lace dress is big and flowing on the floor, dramatic and attention grabbing.
Steampunk Victorian lace choker
A lace choker is beautiful, delicate, adorning and bringing attention to the neckline.
 Steampunk Victorian jacket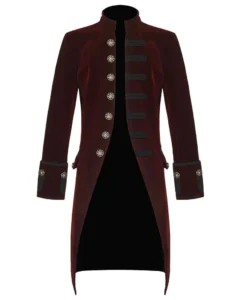 These come in a range of styles including Coat, Overcoat, Cape with lots of metal buttons is the Steampunk way.
 Victorian Steampunk prom dress
The Victorian dress is perfect as a prom dress it has lovely materials and vibrant colours it is very much like a masquerade dress.
Steampunk Victorian gloves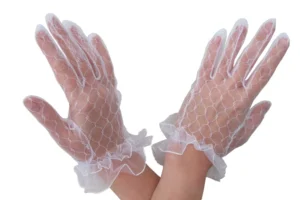 Patterned lace gloves are intricate with their patterns which can be fingerless or not and can have jewellery attached.
Victorian Era Pocket watch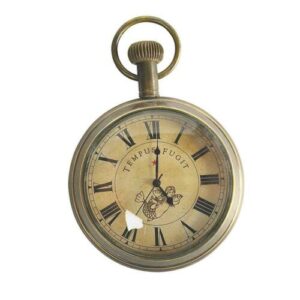 The pocket watch is not to say clothing but they were so popular in the Victorian fashion and went so well with the men's smart dress you could class them as popular clothing and absolutely a common accessory to base the outfit around.
Steampunk Victorian trench coat
This is no exaggeration it is a very long coat down to the ankles with long sleeves its purpose being keeping your dry and warm from the weather it looks over the top which is the post apocalyptic style so fitting.
Victorian Steampunk quad sunglasses
These basic functioning and looking sunglasses are from the very beginning era of fashionable sunglasses and are popular with Dracula and Sherlock Holmes equally. These look great and have a distinct look to add a bit of eccentric cool.
Steampunk Victorian shirt blouse
The Victorian blouse is dandy, with features like frilly ruffles and a lace cravat for the men and lace ruffle cuffs for the ladies always a perfect white with stiff big collars.
Steampunk Victorian wedding dress
A Victorian wedding dress was simple though very pretty and distinct, a  tight fitting corset is the top half with a big bustle skirt pure white. They love to accentuate the two separate gender looks, to Steampunk it add a little colourful mini top hat just for the ladies only.
Victorian Steampunk corset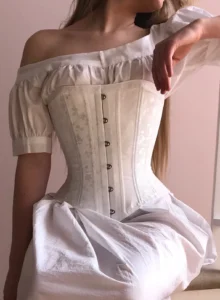 The corset is tight around the waist with lace collar and cuffs also a lace skirt and sleeves are optional choice. They can have metal buckles or clasps instead of the lace ups for a bit more comfort which also gives a industrial cogs and gears feel to the overall look.
The Steampunk Victorian look and archetype characters
Victorian Steampunk Detective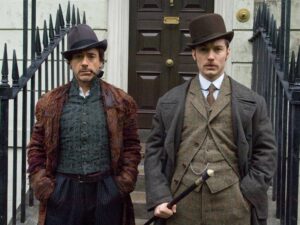 Sherlock Holmes should be in your minds eye here, the Steampunk detective is one of the most popular characters in the genres novels. His outfit is one of the most iconic out of all of them.
Tailcoat with buttons on the front
Victorian double-breasted waistcoat,
Victorian suit trousers
Suspenders
Bowler hat
Accessories
Monocle
Cane
Pocket watch
Hand lantern
Victorian Steampunk Lady
Every Steampunk gent has his lady and in the Victorian times the genders were very distinct in their styles and accessories. A great of example of a Steampunk lady is  Kate Beckinsale in Van Helsing with her gorgeous corset and lace sleeves.
Mini top hat
Fishnet Tights
High heel Boots
Women's double breasted waistcoat
Accessories
 Victorian Steampunk heroes
'The League Of Extraordinary Gentlemen' is a great movie if you are looking for some Steampunk hero inspiration, there are a few to choose from as par the name. They wear similar clothing as shown below;
Waistcoats

White shirt

Long coat
Boots
Suspenders
Accessories
Steampunk Victorian Zombie
The great thing about the Steampunk Victorian zombie is you can just use those pieces of clothing you do not like so much and rip them up a bit. You can use a specific character if you want to put a little more effort into it or just use up older clothes you never use. Put on some zombie makeup and a splash of red paint and your there. Here are some popular clothing to use;
A Steampunk outfit to cut up
Make up
Accessories
 Victorian Steampunk Pirate
Piracy did exist in the Victorian era it is actually one of the oldest professions that has ever existed going way back into history. Pirates hay day was just before the Victorian period of 650 to 1730 it was just as popular then, when pirates such as Henry Morgan, Captain Kidd, and Blackbeard stalked the seas. Any of these characters is a great inspiration for your Steampunk pirate Cosplay.
Swaggering Cavalier Hat
Buccaneer boots
Sash
Duke shirt
Breeches
Accessories
Sword
Pistol
Gears and cogs eye patch or monocle
 Steampunk Victorian vampire women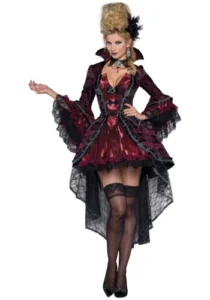 Vampires are very much 'dead and kicking' in the Steampunk world and are most often mysterious and high class. Use lots of dark colours as you know vampires prefer not to be seen when they are hunting at night.
Black Victorian long coat or cloak

Lace cuffs
Black Veil  
Accessories
Contact lens
Teeth
Cane
Blood vial necklace
Pocket watch set to midnight to place around your neck
Steampunk Victorian  Makeup Looks
The Victorians had a perspective on what was beautiful and a specific makeup look for the women not so the men. The men in France at that time famously wore white face paint though not in Victorian England.
Pharmacists made the make up of the day using things you would not in this modern world put anywhere near your body let alone your face. Those we will not cover here.
The style for women was having a bright and smooth complexion, untanned skin without blemish, and a natural rosy glow. A professional enameller as they  were called removed all hair, dirt and imperfections from the client's face before smoothing on white paint. It filled creases and wrinkles to leave a smooth and youthful appearance. Blue veins were painted on to make the skin look translucent.
Basically having pale skin was popular to show your class and how well of you were. If you had a white face then that meant you had not been working in the fields all day in the sun like peasants did which was below the rich aristocracy.

For your Steampunk Victorian Cosplay use pale pressed powder to make your complexion as white as you can, choose blush in a natural rosy tone to add slight colour to your cheeks, but don't use enough to make it obvious that was more burlesque unless you like that.
Ultimately white, pale, almost translucent skin, rosy cheeks, crimson lips, white teeth, and sparkling eyes were beautiful in the Victorian fashion. For the everyday tone it all done so it is more subtle and less obvious.
We hope you enjoyed this introduction to Steampunk Victorian fashion, now tally Ho sir and see you forth hence for more Steampunk fashion topics.