Buy Steampunk Pocket Watches UK
Welcome clockwork loving and fashion-forward timekeepers! Today, we delve into the realm of Steampunk elegance as we review the magnificent world of Steampunk pocket watches. Embracing the fusion of Victorian aesthetics and steam-powered technology, these mesmerizing timepieces offer more than just functional accuracy. With their intricate gears, ornamental details, and vintage charm, Steampunk pocket watches transport us to an alternate universe where time is adorned with a touch of whimsy and adventure. So, gear up and get ready to embark on a journey as we review the finest Steampunk pocket watches to adorn your waistcoat or blouse sold here in our shop.
A Steampunk pocket watch is a unique timepiece that blends elements of 19th-century Victorian fashion with futuristic, mechanical designs. It typically features intricate gears, cogs, and exposed mechanisms that are inspired by the industrial revolution era. The watch is often made from high-quality materials such as brass or copper, giving it a striking and vintage aesthetic. The design may also include embellishments like glass dials, roman numerals, and ornate engraving. With its retro-futuristic appeal, a Steampunk pocket watch is not only a functional accessory but also a fashionable statement piece that captures the nostalgic charm of an alternate Victorian era.
So what is good and bad about Steampunk pocket watches?
Good:
Unique and Stylish: Steampunk pocket watches often have intricate designs and detailing, making them visually striking accessories. They can add a touch of vintage charm to any outfit.

Conversation Starter: A Steampunk pocket watch can be a great conversation starter due to its distinctive look. It can pique people's curiosity and lead to interesting discussions about history, fashion, and the Steampunk genre itself.

Functional Timepiece: Despite their ornate appearance, many steampunk pocket watches are functional timepieces. They often have accurate quartz movements or mechanical movements, ensuring that you can rely on them to keep time reliably.

Nostalgic Appeal: Steampunk pocket watches can evoke a sense of nostalgia for a bygone era. For those interested in Steampunk literature, movies, or the Victorian era, owning a pocket watch can help to create a connection to the aesthetic and values of that time.
Bad:
Fragility: Some Steampunk pocket watches may be delicate due to their intricate design and decorative elements. They can be more prone to damage and require extra care and maintenance to ensure their longevity.

Limited Practicality: While pocket watches are functional timepieces, they might not be as practical as wristwatches in modern times. They require a pocket or a chain to hang from, which may not always be convenient for everyday use.

Accessibility: Steampunk pocket watches may not be easily available at local stores or watch retailers. Finding a well-made and reasonably priced one may require searching online or visiting specialized stores, which can limit the options for potential buyers.

Personal Preference: The Steampunk aesthetic, with its Victorian-era styling and industrial elements, may not appeal to everyone. Personal taste plays a significant role in the perception of Steampunk pocket watches, and some individuals may simply not find them appealing.
Now we go into each of the Steampunk pocket watches;
Cogs And Gears Pattern Steampunk Pocket Watch
The Avaner Steampunk Cogs And Gears Pattern Pocket Watch is a unisex timepiece that combines vintage design, quality craftsmanship, and great value. This pocket watch features a stylish antique bronze half hunter case and a classic round white dial with numerals in black. The hollow design of the watch adds a fashionable touch and allows for reading the ticking hands position though not the numbers without having to open the case.
This pocket watch features a cog and gear pattern on the front face which is a tilt of the hat to the 'coggers' out there. A 'cogger' is someone who loves Steampunk but more specifically adores and is fascinated by cogs and gears especially beautiful cogs and gears of the Victoria era above anything else. The material of the case is like plastic which is not Victorian as plastic was not even created, it works more as a functional tribute to the genre than historically correct. I would recommend this mostly for Cosplay, events and casual wear as it is begs to be explained for smarter attire a plain pocket watch though your choice and works pretty much equally.
I have to note it is not very big but this is good in some instances if you have a favourite waistcoat or not with small tight pockets or jeans with a hidden watch pocket you have been wanting to use. Small pocket watches are great for DIY projects like for making wrist watches that feature a pocket watch or other improvised Steampunk jewellery.
The hand wind mechanical movement of this pocket watch eliminates the need for batteries, making it convenient and eco-friendly for those intolerable batteries that can be hard to come by in a dystopian world. Simply twist the top button to wind and adjust the watch, ensuring a work time of 24 hours. The watch also has water resistance for daily use, although it is not suitable for diving, swimming, or water-related activities.
With its retro bronze classic Steampunk copper tone metal case and savy unique cogs and gears design, this pocket watch is a perfect addition to any formal or casual attire. It can also be a great gift for your loved ones on special occasions such as birthdays, Christmas, or Valentine's Day.
The Avaner Steampunk Retro Hand Wind Mechanical Pendant Pocket Watch has a case diameter of 4.66 centimeters and a case thickness of 1.44 centimeters, making it a compact and lightweight accessory weighing only 68 grams. The watch comes with a metal chain that measures 14.17 inches in length.
Overall, this pocket watch from Avaner offers a charming vintage aesthetic, reliable mechanical movement, and excellent value for money. So if you're looking for a unique retro and stylish timepiece, the Avaner Steampunk Cogs And Gears Pattern Pocket Watch is definitely worth considering.
What people say about this pocket watch;
'I received this earlier today and I was immediately really pleased with the look and feel. It is quite weighty with a nice chain . The blue / black and gold effects are really pleasing. It has kept perfect time over the past 5 hours – I realise that isn't really a long enough time and I will update later. I'll also give an indication as to how long it will go on a single full wind. What really amazes me is that the movement actually has a self winder – the sellers do mention this in passing in the description but don't make it a feature for some reason. The two things I am not so keen on –
(i) The hour hand and the minute hand are the same width so that when the minute hand crosses the hour hand it actually looks as if the hour hand has fallen off!
(ii) The front glass isn't glass as described – it's fairly thin plastic. Which is a shame as the rest of the watch is made so well. (The rear glass is glass, as far as I can tell).
These two faults would certainly not have stopped me buying it.'
'The movement is absolutely dreamlike, accurate and quite shock-proof. Unfortunately, the used watch glass seems very cheap, and the readability is not optimal due to the glued gears when the lid is closed. The movement is a winding machine, at least one oscillating mass is visible and the watch cannot be overturned. The word seems I use since I use the clock primarily as a desk clock, there is not much moving.'
'I like the look and the fact that it has to be wound, the problem is it never stops winding so I never know if I have wound it enough and have the problem of my watch stopping because it wasn't wound enough.
It stopped working.'
Jennifer Dobson
Locomotive Silver Steampunk Pocket Watch
I had the pleasure of trying out the ZHOUBA Locomotive Silver Steampunk Pocket Watch recently, and I must say, I am thoroughly impressed. This timepiece truly combines both Steampunk style and functionality in a unique and lovely way. But what really caught my attention was the design. The hollow and locomotive design adds a touch of vintage charm that I absolutely adore. It's truly one-of-a-kind and unlike anything I've seen before.
The locomotive as shown on the front face of the pocket watch was cutting edge technology in the Victorian era. It showcased mechanics especially those innovative moving cogs and gears wonderfully. Any other Steampunk fan will instantly know you are a Steampunker and break that conversational ice like a great big steampunk ice breaker locomotive in the everyday office or at events like Cosplay. The pocket watch asks 'Do you love the locomotive?' or 'What is your favourite Steampunk technology?' ectara ectara
Demonstrate your understanding of the Steampunk fashion and its subtle nuances and attract like minded fans, gents and ladies, it is easily recognisable as a tribute and a icon of the style. I believe it would be great as a more elegant classy Victorian outfit or cosplay. Also with such a beautiful icon would be great on your mantle piece on display when you are not using it compared to the more plain pocket watches. Check out the various pocket watch display ornaments found online.
It has not been made historically correct to Victorian materials and design with a reliable though modern Quartz movement. Lastly it features a lovely Neo Victorian floral pattern on the back and of course a mechanical movement for hand winding. It keeps good time when wound once daily and is light in weight good for your suit pockets. The fact that it can be worn as a watch or as a necklace adds versatility to its use, making it a standout accessory in my collection.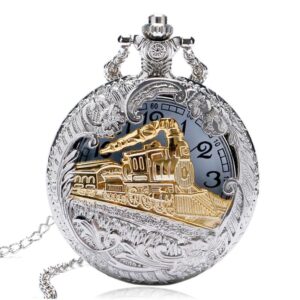 When it comes to durability, the ZHOUBA Locomotive Silver Steampunk Pocket Watch doesn't disappoint. Crafted with an alloy case material, it is built to last. Despite being durable, it's not too bulky thanks to its 4.5cm/1.77″ case diameter, ensuring comfortable wear.
What I also appreciate is the convenience that comes with it. The included 80cm/31.5″ chain makes it easy to keep the watch secure and accessible at all times. It's the little details like this that make a difference.
But what truly makes the ZHOUBA Locomotive Silver Steampunk Pocket Watch stand out is its ability to be a stylish accessory and a thoughtful gift option. Whether it's for yourself or a friend, this pocket watch is bound to impress. The unique design, precise movement, and versatile functionality make it a must-have for any watch enthusiast.
Overall, the ZHOUBA Multi Vintage Pocket Watch is a beautifully crafted timepiece that offers both style and functionality. From its precise quartz movement to its hollow and locomotive design, it's perfect for daily wear or as a valuable addition to any collection. Whether you're treating yourself or looking for a unique gift, this pocket watch is a fantastic choice.
What people say about this pocket watch;
'Nice quality watch. Keeps good time (as long as you remember to wind it!). Not at all bulky, like some, more expensive watches, that I've owned, so it shouldn't deform a lighter weight suit. Sits nicely in my tweed suit waistcoat.'
Unknown
Roman Numerals Steampunk

Pocket Watch

This is a  half hunter pocket watch good for any occasion with a skeleton watch movement shown from the front with a magnifying glass front case for easy admiring and a back window for inspecting that way, some call it a 'heart beat window' a lovely metaphor. Basically those cogs and gears should not be covered up, no sir! skeleton all the way please.

The Roman Numerals Steampunk Pocket Watch by ManChDa is an elegant and fashionable timepiece that adds undeniable style and class to any outfit. The vintage design with a unique skeleton dial is an eye-catcher, making it the perfect accessory for both men and women.

The watch features a special design with an elegant bronze engraved case and a unique magnifying glass that helps you read the time more easily. The golden movement and perfect match skeleton dial add a touch of sophistication, while the peaceful engraved pattern around the cover adds a vintage charm.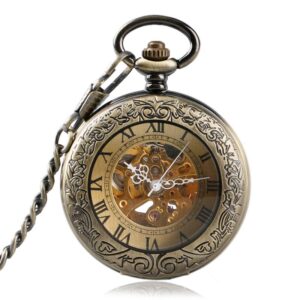 The quality of this pocket watch is top-notch. It has excellent workmanship, featuring a precise mechanical movement. The case is made of copper and comes with a long chain for added convenience.
What sets this pocket watch apart from others is that it does not require a battery. It features a mechanical hand-wound movement, meaning you simply twist the top button to wind it up and enjoy 24 hours of uninterrupted movement. However, it is important to wind up the watch before every usage and keep it away from magnets to avoid any disruption in its functionality.
The packaging of this pocket watch is also noteworthy. It comes in a good quality gift box and includes a microfiber cloth for easy cleaning. This makes it a perfect gift for your loved ones or even for yourself on special occasions like Valentine's Day, Christmas, birthdays, or weddings.
In summary, the Roman Numerals Steampunk Pocket Watch by ManChDa is a high-quality timepiece with a vintage and fashionable look. Its unique features, such as the magnifying glass and engraved case, make it a standout accessory. Whether you're wearing it with a suit, vest, pants, or dress, it is sure to add style and class to your daily life and fashion.
Here is what people say about this pocket watch;
'This watch is amazing, it runs smoothly, the complete glass case is amazing, you can see all the movement.. The chain is nice and light.'
Kitty
'For the money this is surprisingly well made. You can marvel at the workmanship of all the mechanism which is clearly visible trough both back and front. The unexpected bonus is that you can see the wind up spring so can clearly see when it could do with a couple of turns to keep it from stopping. Seems to keep good time as well.'
'Didn't think it was working to start with, but wound it up fully and hey presto, it's goes for a good eight hours. Obviously, towards the last couple it losses time, but it's a nice looking watch. Feels good, looks more expensive, not to sure about the chain, but I'm changing mine for a real gold chain. Looks good for any occasion, although I've been wearing all day…missus thinks I'm nuts getting it out every couple of hours…'
Andrew
'The watch looks great but it needs regular winding. If you forget, it starts to lose time. I forgot to wind it one night and it lost over five minutes by the morning. I recommend winding it mid day and before bed. Then it'll be okay.'
Alistair Duncan
Wooden Steampunk Pocket Watch
I recently purchased the YISUYA Handmade Steampunk Wooden Pocket Watch and I must say, I am thoroughly impressed. The quality and design of this timepiece are truly exceptional. Crafted from 100% natural wood with impeccable workmanship, this half hunter pocket watch stands out from the rest with its unique and special design.
One of the standout features of the YISUYA Handmade Steampunk Wooden Pocket Watch is its wood case. Not only does it provide durability, but it also adds an elegant touch to the overall aesthetic.
Steampunk has alot of bronze and gold though wood is rarer but not unknown, the wood represents the pinnacle of craftsmanship in the Victorian period with it's beautiful rich hues that was the height of popularity and could be found in fashionable furniture and artworks of the time. To the touch the wood is smooth and the natural woods pattern makes the watch unique to any other in circulation that is a big feature no two are the same.
The wood is framed by a gorgeous Victorian pattern on the outer edge whilst in the middle is a small window so you can see the ticking hands and read the time easily closed for when you are on the go. You can as well see some though not all of its mechanical movement from the front which annoying and I can't help but want to see the whole movement. The hands are some of the most beautiful on this list they are delicate with a intricate design.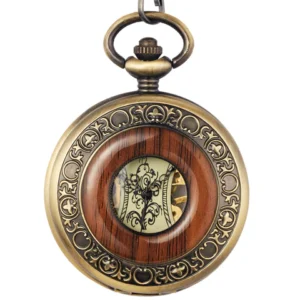 As an added bonus, the YISUYA Wooden Pocket Watch comes with a vintage and fashionable gift bag, making it a perfect present for loved ones on special occasions. But this watch offers more than just visual appeal. It boasts exceptional functionality with its mechanical hand-wind movement, eliminating the need for batteries. Simply wind it up for optimal performance. Just be sure to keep the watch away from magnets to maintain its smooth functioning.
In terms of customer service, YISUYA goes above and beyond. They offer a 30-day money-back guarantee for any reason, as well as a 12-month warranty for quality-related issues. On top of that, there is a 24-month warranty specifically for quality issues, showcasing the brand's commitment to customer satisfaction.
Overall, I wholeheartedly recommend the YISUYA Handmade Wooden Pocket Watch. Its blend of natural wood, flawless workmanship, and distinctive design make it a remarkable accessory. Whether you're in search of a special gift or a fashionable timepiece for yourself, this pocket watch ticks all the boxes and more.
What people say about this pocket watch;
'Very cheaply made but keeps the time well. A full wind lasts about 2 days. Looks better in the pictures than it does in real life. A major flaw of This watch is the design on the face – it looks the same as the hands, resulting in an almost unreadable face in anything except bright light.
I bought this to complete the look of a new suit so I wasn't overly worried about whether it worked or not. I just needed something fast and cheap.. so in my case I'm not too bothered that it's crap – it does the job I wanted it for.'
Donald ebb
 Victorian Patterned Steampunk Pocket Watch
I recently purchased the Avaner Victorian Patterned Steampunk Pocket Watch and I have been extremely satisfied with its performance and design. This product offers a unique combination of a necklace and a watch, making it a versatile accessory that can be worn with a variety of outfits. The intricate pattern on the front of this pocket watch is beautifully designed as was many creations of the Victorian era. It makes me think of exquisite Victorian architecture like The Crystal Palace in London or sophisticated chandeliers very fashionable at the time. 
There is a lovely engraved border matching the overall style in a classic Steampunk bronze colour. You can see the ticking hands through the front covers elegant pattern. This I feel would work more for a Steampunk lady than a gentleman or a sophisticated upper-class gentle man, this is because it is so delicate.
In terms of functionality, it is important to note that this watch is intended for daily use and is water-resistant.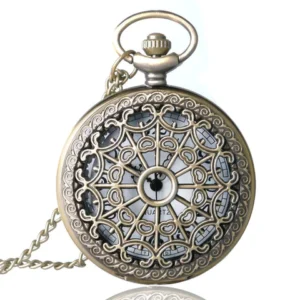 The materials used in this pocket watch are of high quality. The movement is a hand-wind mechanical movement, which enhances its reliability and durability.
The Avaner Victorian Patterned Steampunk Pocket Watch has a round dial case diameter is 1.8″ (4.6cm), and the thickness is 0.6″ (1.4cm). The black and gold 2-tone color combination with Roman numerals adds to its overall appeal. The chain color is black, and it measures 14.0″ (35.5cm) in length. With a lightweight of 2.18oz (61g), it is comfortable to wear without feeling heavy.
Overall, I highly recommend the Avaner Vintage Long Chain Pocket Watch Pendant Necklace for anyone looking for a unique and stylish accessory. Its retro design, easy readability, and water-resistant feature make it suitable for various occasions. Moreover, its high-quality materials ensure its longevity.
Here is what people say about this pocket watch;
'A great pocket watch, it doesn't look cheap, it's designed very well, and the front is not made of glass, which is very reassuring.'
Yong Im
'Glass at the back, plastic at the front to cover the dial. All in all, rather cheaply produced. Far too expensive for the quality.'
Bluesman
Gothic Style Steampunk Pocket Watch
I recently had the pleasure of trying out this Gothic Style Charm Retro Pocket Watch and I must say, it's an absolute gem. Combining vintage and Gothic charm with modern functionality, this pocket watch is sure to catch everyone's eye.
The gothic-style design, inspired by the glamorous era of the 1920s Great Gatsby, is simply stunning. The round shape and skeleton dial give it a unique and stylish touch that sets it apart from ordinary pocket watches. And with its convenient chain, you can easily carry this pocket watch wherever you go, adding a touch of elegance to any outfit.
But what really makes this pocket watch stand out is its hand-winding mechanism. This mechanical movement, powered by winding the watch by hand, not only eliminates the need for batteries but also helps preserve the environment. It's the perfect choice for those who appreciate the art of watchmaking.
Not only is this pocket watch a fashionable accessory, but it also makes for a thoughtful gift idea if you know the taste of the person your giving it to this is a winner. Having elements of Gothic, Steampunk and Victorian you just need to know what they like. Whether it's for a special occasion or just to show someone you care, this pocket watch with chain is sure to impress. Its uniqueness and black charm will make it a cherished gift for years to come.
The specifications of this timepiece are just as impressive. The durable metal case, measuring 47 millimeters in diameter and 15 millimeters in thickness, ensures that this pocket watch will withstand the test of time. The black dial and matching metal chain add to its overall aesthetic appeal, making it a true work of art.
And let's not forget about the quality. Manufactured by ShoppeWatch, a renowned brand in the industry, this pocket watch is built to last. With their commitment to excellence, you can rest assured that you're getting a reliable and sturdy timepiece.
In conclusion, the Gothic Style Steampunk Pocket Watch is a must-have for anyone who appreciates Gothic Steampunk aesthetics and retro style. Its vintage charm, modern functionality, and hand-wound mechanism make it a standout choice. Whether you want to make a fashion statement or find a unique gift, this pocket watch exceeds expectations.
Here is what people say about this pocket watch;
'It seems to keep reasonable time, I find myself constantly giving the winder a twist or two every time I pick it up.
The inner cover is plastic, the back glass. The inner cover rattles and spins. Its not a major issue, but it would have been nice for them to have used the same material on both sides.
The locking mechanism on the main cover works well and is spring loaded.
The actual watch face bugs me though. It uses the "traditional watch" roman numerals, not actual roman numerals. On the watch face, you have I, II, III, IIII and V not I, II, III, IV and V.
I was taught how to do maths in roman in school so this is very annoying to my mind. I suppose IIII is 4 but thats not how you write it…hey hum…
I can't complain at the price though.'
'It's built to a price alright, and although it at first appears to be steel, in fact it's chrome-plated aluminium alloy (Mazak). You first notice it with the mould flashing round the winder ferrule. The plating is very good though, and the classic design is lovely, but would have been nice to have minute markers. On mine at least, the front opens with one push of the knob, the back with the second. The chain is quite good, better than feared.
The movement's not bad, and in fact has so far proven very accurate, but the nature of a cheap watch is that some will be good timekeepers, others won't. I doubt it will last long, but it might – I have cheap mechanical watches decades old.
Overall, I'm pleased I bought it.'
'What I don't understand is why the watch opens at the same time the front and the back, my father's old watch opened the front of it if you clicked once on the top button, and the back if you clicked twice. I don't like that about this clock.
Another problem that I've had with this clock is that it's hard to close, when you press the clock to get it back into your pocket, it's difficult to close the front of the watch, it doesn't fit too well, and the back of it is a bit loose too.I dont know if there's any way to open only the front of the clock, I would thank anyone who could tell me. You can open both sides at once, and only the front if you are very skilled and take the clock pressing the back of it while you press the top button to open it, but it's very uncomfortable.'
'The front cover is perforated to show off both the gold coloured skeleton movement and each roman numeral. It opens to 90 degrees on a strong spring, and on its inner appears to have a form of engine turning decoration. The front glass feels like plastic, whilst the back of the watch is decorated and has a glass window showing the mechanical inner workings. The chain is black chrome plated and of a reasonable length, but is something I have yet to use. The watch gains by about 3 minutes a day and fully wound has run for about 43 hours. All told I consider this to be a gem of a pocket watch, and worth every penny I paid for it.'
'I have carried pocket-watches for more years than most of you have been alive, both Quartz and mechanical/wind-up styles.
I was pleasantly surprised to find that my watch is almost a gun-metal color, rather than the stainless appearance shown in the pictures.
I have never before had a "skeleton" case and sort of like being able to see the time without having to open the cover, thus saving wear and tear on the latch and hinge, yet still having the protection of a cover.
It is neat to be able to see the innards doing their millions of little jobs.
Everyone I have shown this to is impressed and they think I paid much more than I did; I see no reason to enlighten them.I read some comments that the chain and clasp are a weak point.
Not so on the watch I received; mine looks like a log-chain for a Tonka-truck and should long out-live the watch.'
PostHole
Gold Glass Steampunk Pocket Watch
The Gold Glass Steampunk Pocket Watch is a stunning piece that embodies the essence of Steampunk. With its unique glass case design and exterior, it exudes an air of mystery and elegance. A unique look though not without it's drawbacks you will need to be careful it does not get marked or broken due to the glass.
This is more for the love of movements than the need to tell the time,  a 'favourite 'coggers' past time to look at cogs and gears who cares how late you are when you have a truly skeleton movement to show off, it's a marvel. The pocket watch is made of glass with a copper frame a typical Steampunk material and open face.
This would also be great on your mantle piece using a pocket watch stand when not in use as it is a show in it's self, if one of your friends has never seen the beautiful ticking of a watch movement here is where to start and understand the obsession. This is unique in that it bares all, nothing is left to the imagination if you want to see every thing from every angle this for you.
The lack of numbers is personnel preference if you like to look at the movement purely with no interference then this the style for you. You will see on any Steampunk colour pallet gold is a popular.
But it's not just about looks, this pocket watch features a hand-wound mechanical movement that ensures precise timekeeping. By twisting the top button, you can wind the watch for a walk of 24 hours. It's important to hand wind the watch daily for optimal performance. Just remember to keep the watch away from magnets as they can interfere with its mechanism. 
Crafted with excellent workmanship, this pocket watch is made of pure copper, giving it a good touch feeling. The long chain adds to its charm and versatility, making it suitable for both casual and business occasions. Whether you're attending a business gathering or a fancy event than the need for telling the time on go, who cares how late you are when you have watch movement like this to look out., this pocket watch will undoubtedly add undeniable style to your outfit. 
The product comes in a high-quality gift box, complete with a microfiber cloth for easy cleaning. It's the perfect choice for a gift to your loved ones or even yourself. Whether it's a Valentine's Day gift, Christmas present, birthday surprise, or a wedding gift, this pocket watch will impress and delight. 
In the package, you'll find the exquisite pocket watch, a chain belt to secure it, and the elegant gift box. Please note that the color of the item in the picture may slightly differ from the real thing due to light shooting and display differences. Additionally, while the watch is water-resistant, it is not suitable for showering or swimming. 
Overall, the exquisite Gold Glass Steampunk Pocket Watch is a must-have for any Steampunk enthusiast or fan of vintage elegance. Its intricate design, precise movement, and excellent quality make it a timeless accessory that will surely turn heads. 
Here is what people say about this pocket watch;
'I gave this item to my 9-year-old son because he loves antiques, he loves sight gears and manual winding, it's a real production of watches of yesteryear, really stylish to show, is of good workmanship, I highly recommend it.'
Maura
Pure Gold Steampunk Pocket Watch
The KUELXV Pure Gold Steampunk Pocket Watch is a true masterpiece of Steampunk design. Featuring a manual winding machinery, this pocket watch showcases exquisite craftsmanship and precise mechanical movement. Its elegant case and long chain add to its overall appeal, while its smooth touch makes it a joy to handle. 
In the Victorian times it was the, excuse the pun, the 'golden age' for gold and colored gold metal that were among the most commonly used metals for jewellery and were the raging fashion, it was most definitely it's heyday. I really like the antique look of this it is dashing when you hold it in your hand it feels like a piece of gold bullion taken from the tower of London it's self or bought in a genuine antique auction of the time, any Steampunk gent would feel like the king him self with it in hand.
One of the standout features of this pocket watch is its classic design. With a double Roman numeral scale, it exudes a vintage charm that is truly special. There are roman numerals on the inner dial and engraved on the outer edge too for easy time telling.
The whole watch gold metal has a lovely smooth feel to touch so does the glass protecting the dial and watch movement seen from the front and back. This I think would be great as a wrist pocket watch if you can pair it with the necessary accessory.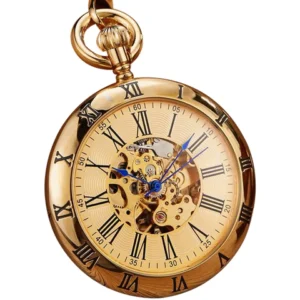 Setting the time on this pocket watch is a breeze. Simply pull the crown away from the base, then turn it clockwise until the correct time is reached. Once done, press the crown back to its original position, and you're all set. 
I couldn't be more thrilled with this pocket watch! Not only does it serve its practical purpose flawlessly, but it also makes for an impeccable gift. Whether you want to impress your loved one, surprise your family, or treat yourself, this pocket watch is an outstanding choice. It is truly the perfect present for occasions like Valentine's Day, Father's Day, graduation, Christmas, or even a wedding.
What sets this pocket watch apart is its timeless design, making it not just a timekeeping device, but also a stunning fashion accessory. The watch adds an exquisite touch to any outfit, making it suitable for business occasions or parties. Whether paired with a suit, vest, pants, or dress, it elevates your style and presents you as a true gentleman or lady.
The KUELXV Pure Gold Steampunk Pocket Watch has a diameter of approximately 4.3cm and a thickness of about 1.8cm. The chain's total length is approximately 37cm, providing ample flexibility and convenience. The pop-open flip front cover with a press button at the top adds functionality and practicality.
The package includes the automatic mechanical pocket watch itself, along with an easy-to-attach chain. The watch is available in a stunning gold colour, which adds a sense of luxury and sophistication to its overall appearance.
All in all, the KUELXV Pure Gold Steampunk Pocket Watch is a must-have for any Steampunk enthusiast or anyone in search of a unique and stylish timepiece. Its blend of vintage aesthetics and modern functionality truly sets it apart in the world of pocket watches.
Conclusion;
In conclusion, the Steampunk pocket watch is an exquisitely crafted timepiece that effortlessly combines the elegance of Victorian-era design with the nostalgic charm of a bygone era. Its intricate details and functioning gears showcase the remarkable craftsmanship and attention to detail that Steampunk enthusiasts will greatly appreciate. Beyond its aesthetic appeal, the pocket watch excels in accuracy and reliability, making it not only a stylish accessory but also a practical timekeeping companion. With their timeless charm and undeniable quality, these Steampunk pocket watch's each are truly a must-have for anyone looking to stand out in style.